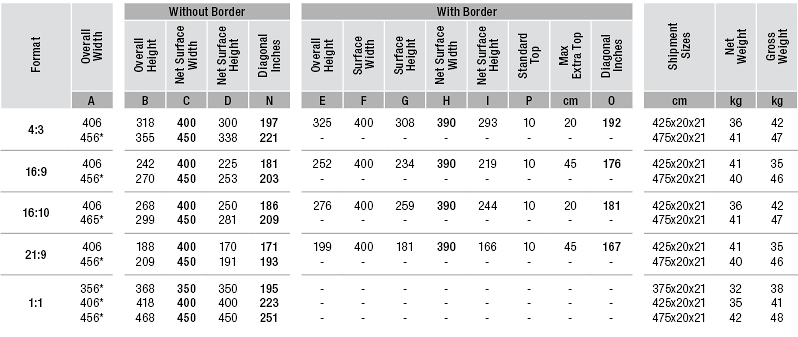 * Not available with VisionWhitePro surface.


Characteristics:

Alumid: large-scale formats for a unique style. Designed for screens with bases sized over 3.5 m., this model is equipped with the trademark built-in 108 mm. diameter aluminium roller, contained in a case which is open underneath, for easy rolling of larger-scale screens.

The result is an excellent tensioning of the projection surface. This product is also interesting from the installation point of view, which is based on the quick-assembly system, an operation which can be carried out autonomously and with significant time saving.

Sit back and enjoy the results: theatres, congress centres, auditorium spaces, Alumid ensures a striking projection performance even in the most challenging spaces.

Create your own screen with PSS (Personal Screen System):

Personalized dimensions: width and height
Roller type: standard motorized and radio integrated
Case: with standard case or without case
Case colour: available white or black
Projection surfaces: ReferenceWhite, ReferenceGrey, VisionWhite, VisionWhitePro*, VisionRear, VisionAcoustik and Vision MacroAcoustik, available with black borders except the VisionRear
Height of Top: from 10 to 45 cm.
Projection surface drop: front or rear
Positioning of command/motor: right or left-hand side

*Only for width up to 406 cm.