Technical data and practical guidelines for installation

INSTALLATION SYSTEMS FOR ELEGANCE AND PROFESSIONAL SCREENS:

The screens of the Elegance and Professional lines, also in the Tensio and Tensio Classic versions, are mounted with two different types of installation, which allow different configurations to suit the various types of applications.

The standard assembly system focuses on aesthetics, and hides the support structure from sight. First of all the standard support device is secured to the bracket with a screw and hooked onto the profile. Then the plastic wrench is used to fasten the bracket in the optimal position: the assembly is finally tightened with a nut.
The optional quick assembly system is simpler and faster, and ideal for the sector's professionals. Just anchor the 4 cm and 20 cm hooks of the case into the single (wall- or ceiling-mount) bracket; and finally block the screw.

To facilitate these operations it is advisable to partially tighten the nut before proceeding with the alignment.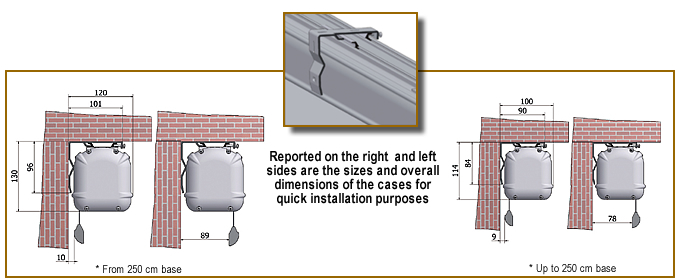 INSTALLATION SYSTEM FOR ALUMID AND ALUMAX SCREENS:
The Alumid screen, whether wall- or ceiling-mounted, is installed exclusively with the quick method, with front or rear surface drop.

The structure of the case enables immediate anchoring to the bracket.

Same type of case and same installation method also for big brother Alumax: quick wall- or ceiling-mount, with front or rear drop of the canvas.

The version without case is supplied with two side brackets for wall and ceiling mounting and use a pivot with a range of 7 cm to make the installation easier.
INSTALLATION SYSTEM FOR LINEAR SCREENS:
The installation system incorporated into the sides is typical of the Linear model.

This assembly system guarantees stability and safety while safeguarding the aesthetics of the assembly.

The screen is anchored with plugs and screws, which are inserted into horizontal and vertical slots in the lateral sides and concealed by the lid.